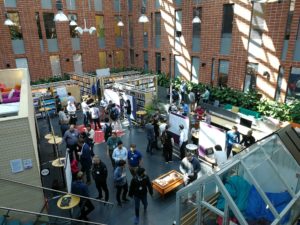 Secure Systems annual Demo Day, on May 29, brought together academic and industrial researchers working with information security. Highlights of the current research were presented by the researchers from Aalto University and the University of Helsinki, altogether 25 posters and 8 demonstrations (list of presentations).
Industry collaboration and providing industry contacts to local students is one of the main missions of HAIC. Therefore, we are so happy that six local infosec companies (F-Secure, Huawei, Nixu, Elisa, Ericsson and Intopalo Digital) attended this event and advertised open student positions in their companies. Our students had lively discussions with the company experts and we hope it helped them to find thesis and internship positions in industry.
Change is constant
Professor N. Asokan presented in his "State of the Union" talk not only the Secure Systems Groups at Aalto and Helsinki and the current research topics of each group but also his next career steps. In the beginning of September 2019, N. Asokan joins the David R. Cheriton School of Computer Science, University of Waterloo, Canada, as a Professor and Cheriton Chair. At Aalto, he continues as an Adjunct Professor until the end of August 2024.
Professor N. Asokan has been the founding Director of HAIC since the beginning of the strategic initiative in summer 2016. From January 2020 onwards, HAIC will be led by Dr. Janne Lindqvist, who will be appointed as an Associate Professor at Aalto. Similar to Asokan, Janne has strong industrial bonds and we hope it will strengthen HAIC's collaboration with industry. Asokan also announced a number of other appointments at Aalto: from September 2019, Dr. Samuel Marchal will be appointed as a (part-time) Research Fellow responsible for leading our activities in security/privacy of machine learning, and Dr. Lachlan Gunn will be appointed as a group leader, responsible for leading platform security research. Dr. Jan-Erik Ekberg was already appointed as a (part-time) Adjunct Professor in November 2018 and will help lead our platform security research.