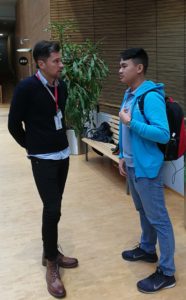 On October 4, about 30 new students specializing in information security attended the annual HAIC Meet & Greet event to get familiar with HAIC activities, HAIC industrial partners, and the people behind HAIC. Mohit Sethi, the deputy director and the head of the HAIC public outreach program, presented HAIC Report 2019 and introduced Janne Lindqvist, who will join Aalto and serve as the director of HAIC January from 2020. During the event, Janne gave a HAIC Talk "Science of Security" telling about his research interests in a broad sense.
In addition to meeting the people behind HAIC, students also met the HAIC 2019 donors, F-Secure and Huawei, who presented their companies and advertised available internship/thesis positions. Matti Aksela and Alexey Kirichenko presented F-Secure while Kuan-Eeik Tan, Jan-Erik Ekberg and Pekka Jappinen presented Huawei. Students were interested in hearing more and after the presentations lively discussion continued over dinner.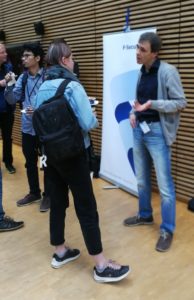 In order to provide financial support to information security students also in the future, HAIC hopes that the current HAIC donors will continue their donations in subsequent years. HAIC also hopes to attract new industry partners to support the HAIC scholarship program.
The call for HAIC 2020 donors is open until the end of November 2019!