Helsinki-Aalto Center for Information Security (HAIC) was set up to ensure that Aalto University and University of Helsinki attracts top students interested in information security. One way we do this is by offering scholarships to the top-notch students.
HAIC scholarship made a huge difference to Muhammad Khan, who is a second year Master's student at Aalto University. Muhammed got accepted to several European Universities but it was the HAIC scholarship that made him choose Aalto University over the other options: "Coming from a third world country, finances are the number one priority for me. This scholarship is what made me apply to Aalto without any second thoughts", he said. Muhammad has been happy with his choice and describes Aalto as an excellent place to study: "I learned that Aalto University not only provides quality education but also cares for the living conditions of the students. Many universities in Europe ranked higher than Aalto don't have proper housing for students (or are overcrowded). Also, good initiatives like the All Well program have taught me that studying isn't everything."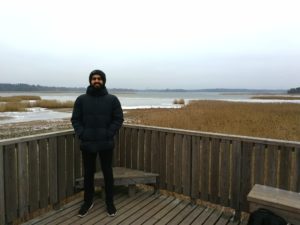 In addition to his studies, Muhammad has been pleased with HAIC industry contacts: "I have participated in the HAIC "Meet and Greet" event and one company visit. The discussions with professionals were very informative and I got to learn a lot about the Finnish industry during these events."
"My suggestion to all future students is to be socially aware of your environment so that you maybe able to widen you social circles. This way, you will not only enjoy your time as a student but also find potential employers in the research world or industry", he advises.
Finland routinely comes on top in surveys and studies on the quality of life. After 15 months here, Muhammad agrees. He has been happy with many things, especially with the quality of student housing and many discounts students get, such as student prices in the campus cafeterias, transportation, housing, etc. However, there is a one big minus: winter. Keeping up with the study load during the cold and dark winter can be "tough as hell". Nevertheless, Muhammad says: "I would definitely recommend Aalto to anyone willing to receive quality education on the condition that they can bear the weather conditions here!"
HAIC scholarship solved the problem
Another HAIC scholar Zaheer Gauhar, a second year Master's student at Aalto University, says he wouldn't be in Finland without HAIC scholarship. "Living in Europe, especially Nordic countries is expensive which makes it infeasible for people with limited resources to move here. This was exactly the problem solved by HAIC", Zaheer says.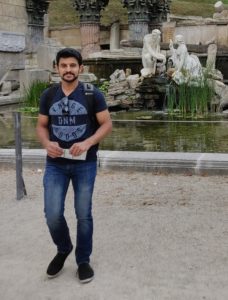 Zaheer is pleased with his studies at Aalto University and recommends Aalto's Master's programme in Security and Cloud Computing to prospective students. "The teaching methods and course structure are very supportive of the study. I especially like the concept of moving away from exams and towards assignments and projects. This leans towards a more hands-on approach", he says. In addition, "The quality of life is certainly very good in Finland. I have had a nice study/social life balance, made a lot of friends and had fun while studying at Aalto."
Zaheer participates in HAIC events and he values the direct contacts to HAIC's industry partners and the possibility to network with local students and company representatives. Currently Zaheer is doing his Master's thesis at Huawei, which is one of the HAIC partner companies. After graduation, Zaheer wants to stay in Finland: "I would prefer to get a job here and continue to enjoy the lifestyle Finland has to offer."
Life in Finland is full of contrasts
In addition to scholarships, at Aalto University, HAIC offers honours student positions. These are part-time research-oriented jobs with research groups at Aalto University. Martin Kulhavy, who is also a second year Master's student at Aalto, says "I felt honored to have been awarded the HAIC student position. It was a great motivation to receive such an acknowledgement of my study efforts. This is not a typical scholarship where the student would simply receive money, instead I was offered a part-time researcher job in the Secure Systems Group. There I got to work on security-related tasks with the researchers in our group. It was a great opportunity both to learn a great deal about various security topics during our work, group meetings and presentations and also to get to personally know some experts in the field. And naturally, it helped to finance my studies in Finland." Working part-time can be demanding but according to Martin, it is doable: "Aalto was very forthcoming, letting me choose how many hours weekly am I able to work and when. From a practical perspective, it is also very convenient to work in the same building where most of our courses are, so you don't waste any time travelling to an office." There is no need to waste precious time in commuting either as Martin lives on campus where everything is within walking distance. "Like a lot of technology students at Aalto, I live on the university campus in Otaniemi, called Teekkarikylä (the Technology Students' Village) which truly is one of a kind. It is on the tip of a peninsula, with sea from three sides, a world of its own. So anywhere you go, you meet fellow students, often wearing their colorful overalls or student caps."
Martin first came to Aalto for a year as an exchange student but decided to stay when he won admission to the Master's programme in Security and Cloud Computing. "Finland is a beautiful country and Aalto is a great university with a thriving student culture. The university has a helpful approach to the students and the professors and other teaching staff are very easily approachable and supportive." Particularly, Martin likes that the university has very close ties and partnerships with industry. For example, some courses are taught by industry experts or sponsored with hardware from a company, and Computer Science Guild organizes excursions to local companies or invites them to hold presentations at the university. "All this is very beneficial for master students, who are looking to start working in industry after graduating or do their Master thesis in a company."
Martin has volunteered to help organize many HAIC events: "HAIC organizes some interesting events, such as "Meet & Greet" evenings, introducing students to HAIC and the companies supporting it, letting us discover what opportunities could they offer e.g., for a master thesis or a (summer) job and also for everyone to meet each other in a pleasant sauna evening. Later we also had a chance to visit the companies' offices. Another interesting addition to the HAIC events are the HAIC talks, inviting various information security experts to hold a talk at Aalto", Martin lists the activities. "But being a part of HAIC means more than just organized events. With our research group, we also had fun time playing board games or Mölkky together, going ice skating or just over a coffee in the office."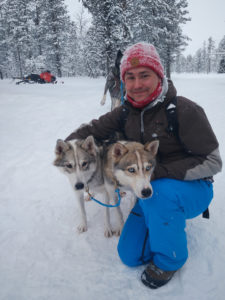 Martin's plans are clear for this semester: finish his thesis and graduate! After completing his Master's thesis at F-Secure, a Finnish cybersecurity company and HAIC industry partner, Martin plans to explore the world of cybersecurity in the real world as a proud Aalto graduate.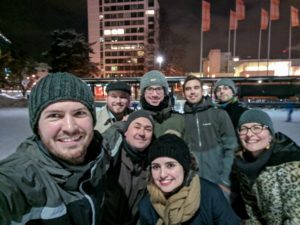 Martin's advice to the students who are about to submit their applications: Don't forget that the application period ends already in early January, so prepare a great application, submit it on time and maybe next year we will welcome you as one of the new HAIC scholars! If you are doubtful about the weather conditions in Finland, remember that strong contrasts can create thrilling experiences. "Life in Finland is full of contrasts. Currently, we have a dark autumn but soon snow will come and everything will be white. You will often go to a hot sauna and then cool off in an ice hole on sea or lake. Once summer comes, the nights are bright and colorful and you can go swim in a lake – perhaps the same lake where you were ice-skating just a few months before. It's definitely an experience to remember", says Martin who has already survived two winters in Finland, looking forward to the third.
Aalto is an amazing place to study!
Ekaterina (Rina) Shmeleva started her Master's studies at Aalto in autumn 2018. During her Bachelor's studies Rina had visited several Nordic countries and found them by far the most livable countries out of all the countries she had visited. "I absolutely loved the city of Helsinki and the nature of the North. As a result, I decided for myself that I want to study for my Master's degree in Northern Europe and nowhere else."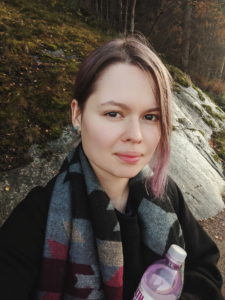 In addition to Aalto, Rina was offered admission to University of Oulu and NTNU in Trondheim, Norway. She had to ponder carefully among the options. "I was choosing between Aalto and NTNU and it was a rather tough decision to make, primarily because NTNU offered a specialization in mobile and wearable technologies, which is what I am most passionate about. However, Nordic countries are among the most expensive countries in Europe which is why I felt unsure about future prospects. A HAIC scholarship made a huge difference by giving me confidence that I will not run out of savings in my first year and will be able to continue my education while staying fully focused on the studies without being distracted by overcoming financial problems."
The first three months in Aalto have already convinced Rina that she made the right choice: "Aalto is an amazing place to study!" Rina has noticed that Aalto provides plenty of cosy and inspiring spaces for students to study. She is especially happy with the flexible degree structure which allows her to tailor her studies according to her own interests, and with interesting course assignments. "There are a couple of courses,  such as Information Security and Network Security, that offer assignments that really made me think differently. I feel like these two courses are not so much about knowing the theory but more about thinking in a certain way. Additionally, these and some other courses also offer group projects that involve a lot of programming which is also really nice because I do not want to forget how to write code or work in a team."
Rina's tips for students applying to the Master's programmes: "Double-check all the requirements for the documents and ask questions if there are some unclarities before it is too late."
HAIC scholars are funded by donations from HAIC donors and supporters as well as financial aid from the universities. Read more about HAIC scholarships.