On October 22, HAIC organized its annual "Meet and Greet" evening, where information security students can meet and mingle with representatives from industry. During the Meet and Greet evening Prof. N. Asokan, the director of HAIC, presented HAIC Report 2018 and announced the coming change in the HAIC leadership team: Dr. Mohit Sethi will be replacing Dr. Andrew Paverd, the vice director and the head of the HAIC public outreach program, who will leave Aalto University in November. During the evening, HAIC leadership team had also its yearly feedback session with HAIC donors.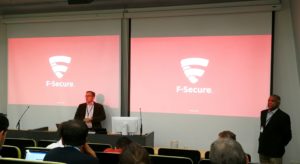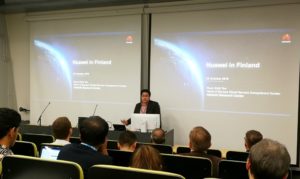 HAIC 2018 industry partners presented their companies and advertised available internship/thesis positions. Mika Ståhlberg and Alexey Kirichenko presented F-Secure and Kuan-Eeik Tan and Janne Mäntylä presented Huawei. Students were interested in hearing more and after the presentations lively discussions continued in the dinner tables.
In order to provide financial support to information security students also in the future, HAIC hopes that the current HAIC donors will continue their donations in subsequent years. HAIC also hopes to attract new industry partners to support the HAIC scholarship program. Ideally, HAIC would require 2-3 full donations from the industry partners in order to support up to 4 students per year. The call for HAIC 2019 industry partners is open until the end of November 2018!